Reversing Edges and Sensor Products
Rubber Strip Switch (digital - on/off)

Rubber Strip Sensor (analog - variable and scalable)
The Electric Rubber Rope can be custom manufactured to a client's requirements, in a variety of shapes, lengths, and for a wide spectrum of environmental operating conditions. These products, which can be produced using only STTS Switch and Sensor technologies and processes, offer unparalleled OEM opportunities. The nature of the products, and the manufacturing processes employed, allow designs to incorporate bends, twists, and yaws, while functioning flawlessly. X, Y, and Z axis bends are completely acceptable, along with varying cross-sectional shapes and lengths. They are truly corrosion resistant, operate over vast temperature ranges, remain flexible, are no-set (don't lose their shape), and meet NEMA IV, Mil-Spec, and Auto Spec requirements.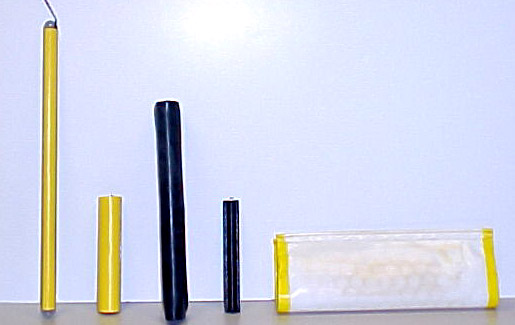 This is the current family of STTS Switch and Sensor reversing edges. We can manufacture reversing edges and switches to your exact specifications. Please complete our Design Questionnaire so that we may understand your requirements.
Our edges can be manufactured to fit any housing, of nearly any size, and practically any shape. We have the ability to conform to any surface with a bend radius of up to 360°. And, most impressively, we can do this using either a digital or analog output signal.
If you have a need for any type of reversing edge, please contact us. Let our professional Research and Development team work with your engineers to develop a customized solution for your specific needs.
---